After 5+ months of hunkering down at home with our newest baby, Ryan and I were happy to go out together Sunday night. A musician friend of ours grew up with the bass player in Lindsay Lou & the Flatbellys. Lee said we wouldn't want to miss this final show on their 2014 tour. We arrived at Elk Creek Cafe a few minutes before five, took our seats, and were completely wrapped up in the gorgeous bluegrass music. Lindsay Lou's voice was so rich and interesting; she made it appear effortless. The four musicians leaned in together to piece the perfect harmony. In between songs, they'd switch up instruments, showcasing their true love for music. Some songs were gorgeous melodies that pulled at my heart strings, while others were toe-tapping tunes that inspired folks to share something clever to the people around the table.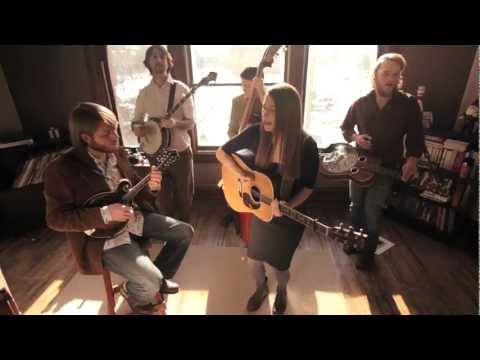 For my meal, I ordered the perfect Apple+Bacon+Cheddar Salad with a glass of Cabernet and sat back to enjoy the show.
With my arm resting on Ryan's knee, things couldn't have gotten much better. There's just something mighty refreshing about the skill and beauty of artists. I day-dreamed about writing meaningful lyrics; I bet Ryan daydreamed about adding the dobro to his ever-growing collection of musical endeavors.
For dessert, I ordered the chocolate brownie sundae with chocolate and caramel sauce and spicy walnuts. I'm sure the kitchen staff barely had to wash my dishes, I cleaned 'em up pretty well on my own.
The whole evening was delicious.
Don't miss out on Elk Creek Cafe's delicious food and incredible live music. Check in here for frequent reminders of their upcoming events.
Cheers, and…
Enjoy your home,